SAKI 2D Automated Optical Inspection Systems (BF-Tristar II)
Inspecting both sides of the PCB in a single pass. it is an ideal high-speed solution for processes like final inspection. The system is compatible with PCB sizes up to 250 x 330 mm, 10" x 13" in. for SMT and Through Hole devices. An optional ultraviolet lighting feature inspects conformal coating.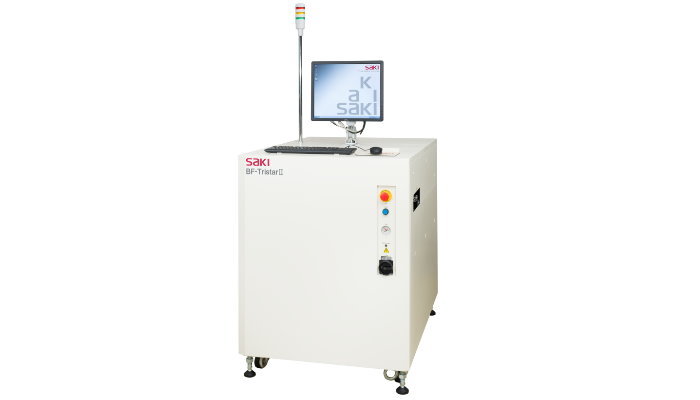 Features
High-speed vibration-free line scan technology.
Optical system includes a telecentric lens capturing images with no blind spots.
Coaxial overhead lighting eliminates shadowing, improves capability and reduces production start-up time.
Line scan system detects FOD and extra components across the entire surface of the PCB.
Unique Fujiyama algorithm verifies five critical aspects of through-hole solder joints.
Conformal coating UV light inspection.
Benchtop Inspection System Product Line.
Compact machine design.
Machine width is the same for both single-lane and dual-lane.
Product Information
MANUFACTURER

SAKI

MANUFACTURING PROCESS

SMT

DETAILS

Medium size PCB's ; Double sided - Inline AOI
BUSINESS CONTACTS
If you have further needs, please contact us, we have a professional staff will serve you.
Kimi Chen

Tel : 03-3529332 ext.513
Mail : Kimi_Chen@tkk.com.tw

Ray Lu

Tel : 03-3529332 ext.512
Mail : Ray_Lu@tkk.com.tw

Allen Wu

Tel : 03-3529332 ext.511
Mail : Allen_Wu@tkk.com.tw